Give Dave Sellers 1 Day & He'll Give You a Super Cool Way to Beat the Heat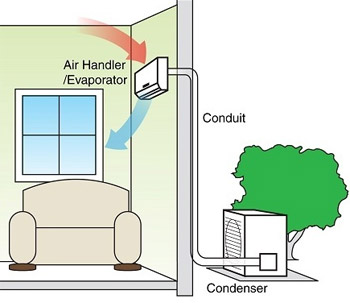 Want superbly efficient and comfortable air conditioning, but can't install ductwork?
Is your central-air-cooled home or building's finished basement too cold, and your second floor too hot?
Tired of less-than-optimal window air conditioners?
Want a hassle-free, 1 day installation with minor disruption?
Maybe It's Time For a Ductless Multi-Room Split Air Conditioning System
Adaptable and Stylish
Ideal for Your Home, Office, or Store
"This is my second one that I have purchased. Had one at my old house, then soon after I moved in to my new house this was the first thing I bought."
Easy Financing Offers*
9.99% APR With

Monthly Payments As Low As $36.79

12 Months 0 Interest, No Payments
Pay with Cash & Get an 8% Discount
*On approved credit
Don't Put it Off! Call (518) 623-9760 NOW
See the Difference. Cool Elegance Never Looked so Good
Streamlined, indoor units connected to quietly compact outdoor units

Indoor units can be wall-mounted, or set into your ceiling

Unit is installed in your wall, not your windows. Enjoy your views!
A small hole in the wall is safer from intruders than through-the-wall and window units
Modern, sleek look for pure comfort that's never out of style
Inconspicuous
Compact size
"I am now SO glad I made this purchase. The unit is out of the way and quiet as a church mouse."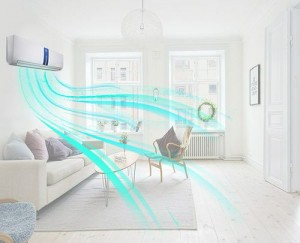 Feel the Difference. Be Blissfully Cool with Advanced Comfort Technology
"I love the consistent temperatures. It has also reduced the electric bill."
Daikin's unique auto-swing louver distributes the air evenly across the room, reducing hot spots
Run at low speed for dehumidification at any temperature

No need for a water collection tank!

Multiple zones define comfort and savings

Connect up to 4 indoor units to the outdoor unit

Precisely controlled, steady, even temperatures
Doubles as low-cost and comfortable heating
Room-by-room temperature settings
Cool only the rooms that need it
"Great investment. We purchased 3 units last July for our lakefront home in New England. One for the basement and two for the upstairs living area. We love the option of using only the dehumidifier but also being able to use the air conditioning if desired. This winter we are using the units as a supplement to our oil based radiant heat. Their very efficient and we've cut our oil consumption by over 50%."
Take a Moment and Fill in the Form or Call (518) 623-9760 NOW. It's Time!
Dave, please contact me about your split-ac systems
Ssshhhhh! Hear the Difference
Whisper quiet, indoors and out!
System most often operates at low speeds

Typical indoor sound levels as low as 26 decibels (quieter than a peaceful bedroom at night)
Gentler indoor heating and cooling operating sounds are quieter than a whisper
Outdoor sound levels as low as 48 decibels (quieter than normal conversation)
"Amazingly quiet! When they first installed it I had to go outside to see if it was running, and standing beside the outdoor unit could hardly hear it running. Keeps my house very comfortable, love it!"
Breathe the Difference—Just What the Doctor Ordered
Air purification filter

Absorbs and deactivates bacteria
Traps microscopic particles
Decomposes odors
Save the Difference
"Excellent product for the cost! We have already seen a reduction in our electric bill and have only one regret that I didn't buy earlier."
Variable speeds reduce energy costs by 30% compared to traditional fixed speed systems
High-capacity units for unmatched performance give you energy & cost savings
"I do not have to run three 15000 BTU portable air conditioners and have a high power bill. These work great."
"This unit will result in considerable energy savings in the years to come."
Timing is Everything! Call (518) 623-9760 NOW
Experience the Difference
Trouble-free ownership

1 year Master Mechanic's design & install warranty
7 year compressor warranty
10-12 year parts warranty

Hassle-free installation with minor disruption, often in a single day's work!
Easy to install in homes and buildings where space is limited
Broad selection of models

Fit the style and performance needs of any space

Wireless remote control
No ductwork needed!
User friendly
"The unit is very easy to operate and the warranties are I think the best in the business. I have recommend this to other friends of mine."
Beauty, comfort, and durability … what more could you want? Well, there's 1 more thing to MAKE SURE YOU GET:
The "Hire Smart" Difference: Custom-Fitted with a Master's Touch
Brilliantly designed and personally installed by David Sellers, Master Mechanic
Qualified installers and service people for split systems are hard to find!

Most conventional heating and cooling contractors have a vested interest in selling sheet metal duct systems, to get a return on their sizable investment for their duct system tools and training

For your optimal installation cost, energy savings, and temperature and humidity control, make sure your installer:

Determines if you have any hot and cold spots in your home or building
Performs detailed load calculations to ensure proper sizing
Judges the best location for your unit installation
The difference is in the details

Improper installation can result in:

Water or refrigerant leaks
Higher energy usage
Hot and cold spots
Fire! Oh my!
Don't accept 2nd-best! Take a Moment and fill in the form or call (518) 623-9760 RIGHT NOW
Dave, please contact me about your split-ac systems